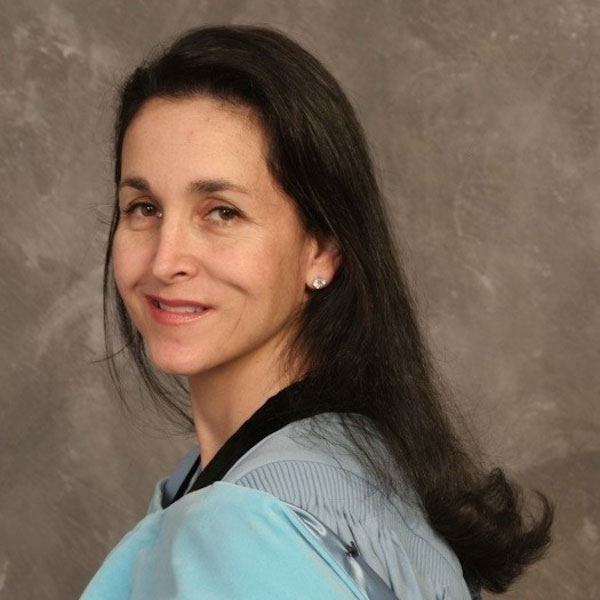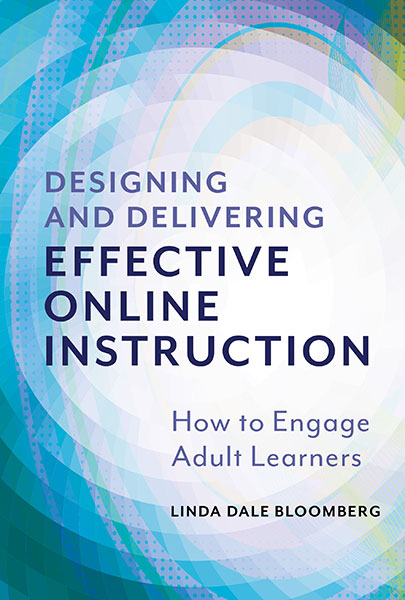 Linda Dale Bloomberg holds the positions of Associate Director of faculty support and development, and full professor of education in the Sanford College of Education, National University. Dr. Bloomberg received her doctorate in 2006 from Teachers College, Columbia University, where she completed the AEGIS Program in Adult and Organizational Learning. Her book is Designing and Delivering Effective Online Instruction: How to Engage Adult Learners.
---
The focus of my book, Designing and Delivering Effective Online Instruction: How to Engage Adult Learners, is on how to facilitate and support deep and significant (as opposed to surface) learning within the online learning context. With the rapid changes taking place in the world of education, the demographics of the online learner population has shifted dramatically. More than half of today's students are adult learners, juggling jobs and families, in addition to college. With COVID-19 initiating the "great resignation" of 2021 and online education becoming more prominent, there are increasingly more reasons for adults to pursue education, including reskilling or upskilling for a new career or to fit their learning around family commitments and responsibilities, as I explained in greater detail in previous blog posts:
Recognizing and understanding how adults learn informs us of best practices to ensure ways to facilitate and support their learning, right from the beginning phases of course design and development and continuing throughout one's teaching practice and pedagogical approach. If you are a course designer or a teacher looking to find out more about the world of educating adults, this blog post will provide some insight. We will explore some adult learning strategies and share some tips for motivating adult learners.
Who are our Learners?
Over the past few years, the online learning environment has evolved to encompass both traditional learners as well as a non-traditional learners (Ellis, 2019).  Even prior to the pandemic, many traditional course settings were beginning to augment or supplement their traditional education with online course components. Online learners, in the recent past, were categorized as "non-traditional learners"; defined as an adult at 24 years of age, who was not attending college right out of high school, or who had a family and/or a full-time work schedule. The definition of a traditional student has historically been a student who is under the age of 25, has no dependents, enrolled in college within 12 months of graduating from high school, lives on or near the campus, takes 15 or more credit hours of classes each semester. Today, however, students matching all of these criteria are in the minority (NCES, 2019, 2021). The "new normal" on college campuses is thus no longer a student who has just earned a high school diploma and can devote all of his or her time and energy to academics. These non-traditional students have to overcome a variety of challenges to make school work because they typically work.
The Challenges Facing Non-Traditional Learners
More than half of today's students are adult learners, juggling jobs and families, in addition to college. Additionally, many of today's non-traditional college students are first generation, as I write about in greater detail in a previous blog post  Celebrating First-Generation College Students: Trailblazers and Future Role-Models! This brings new and emergent challenges for institutions of higher education, forcing them to adjust rapidly to address the needs and challenges facing their growing adult student base (CAEL, 2023). Adjusting to this changing market has left many universities actively seeking ways to respond to this "new normal." 
Challenge of Proximity Traditional students with on-campus residency and no work commitments often have less difficulty conforming to the institution's schedule.
Challenge of Attendance The non-traditional student typically has multiple demands on their time.
Challenge of Relevant Courses Many degree plans are outdated, often requiring students to complete courses in subject areas they have already mastered or earn an excessive number of credits that do not count towards their degree if they transfer from one institution to another.
Challenge of Support Services Non-traditional students are less likely to avail themselves of the support services offered by the university. In many instances such as with first generation students, they may be unaware of the existence of such services. Others may find that the hours during which support is available conflict with classes, their work schedule, or family commitments.
Clearly, the odds do not favor non-traditional students. According to the National Center for Education Statistics (NCES, 2019), almost 67 percent of the undergraduate students enrolled in the fall of 2011 were at least 25 years of age. According to the NCES (2021), between 2012 and 2023, enrollment of students over the age of 25 is expected to increase 20 percent. During the same period, the increase among students 24 years old or younger is projected at 12 percent. The non-traditional student has become the "new normal", leaving colleges and universities competitively seeking effective ways to increase completion rates among this group and to adapt their programs to meet the needs of this rapidly growing segment of their student bodies.
Characteristics of Adult Learners
We can more easily create effective educational resources when we know exactly who we'll be teaching. So, be sure to keep these characteristics in mind when designing courses and constructing lesson plans and content.
Adult learners have life experience: Adults will, unlike younger students, bring with them a wealth of life experiences. The implication is that adult learners will have much varied and rich knowledge to share. 
Adult learners are driven to achieve their goals: Most adult learners will be pursuing education out of choice. Whether it's to learn skills for a new career or just try something new, chances are that they have made an active decision to pursue their education and to get the most out of their learning. 
Adults learners are independent: Since adult learners come from all walks of life, they are typically far more independent than younger learners. Adult learners often know what goals they need to achieve and can hone in on those independently. The implication is that they typically prefer to set their own learning goals and make their own decisions regarding their learning. 
Adult Learning Principles and Theory
As I write in my book, Designing and Delivering Effective Online Instruction: How to Engage Adult Learners, it is critically important to recognize and understand the principles of adult learning, and apply these principles in practice, in order to provide an optimal learning experience that will engage and motivate all learners. This requires an exploration of how adults learn best, under what conditions they learn, and what contributes to their learning. The principles of adult teaching emanate from adult learning theory, with each theory offering implications for teaching in order to maximize opportunities learner engagement and success. Two theories of adult learning that are particularly relevant are Andragogy and Transformative Learning.
Andragogy
Defined by Knowles (1984) and Knowles et. al., (2015) as "the art and science of helping adults learn", Andragogy builds upon the theory of Constructivism that suggests that learning is an active process, whereby adult learners construct meaning based on their own experiences. The main points of this theory are that adult learners have a self-concept of being responsible for their own decisions and of being able to direct their own learning.  Adults seek guidance and consideration as equal partners in the process. They do not want to be told what to do and instead seek to choose options based on their individual needs.  Adults enter the learning experience with a great wealth of life experience, and that experience is a resource that can be drawn upon to provide meaning to new ideas and skills. Experience is also a source of an adult's self-identify. As opposed to children who are subject-centered, adults are life-centered, and so they seek to draw on their own knowledge and life experiences. The richest resource for learning lies within the learners themselves, and therefore the learning content must of necessity tap into learners' experience to ensure a "readiness to learn".
Andragogy provides a framework for assessing the needs of adult learners so that academic programs can be tailored to serve this growing demographic within online education. Knowles' insights are especially important for higher education, where online technology is used extensively for adult students in traditional and continuing education programs, competency-based learning, and career/professional development. Course material must of necessity demonstrate the relevance to real-world application so that learners can connect what they are learning with their current and past experiences, and also be able to see possible future implications. When learners "see themselves" in the course content they can identify more readily with the learning activities and relate the assignments to their real-world career paths and experiences. This has implications for the concept of "usable knowledge"; that is, knowledge that is directly relevant and useful with regard application to real-life experiences.
Research also increasingly points to the effectiveness of contextually and culturally authentic learning activities that provide adult learners with opportunities for problem-solving in order to develop and apply critical thinking skills.  Adult learning is more effective when learners solve problems and address tasks using reasoning. Task-oriented educational tools will be more effective than standard passive teaching methods when teaching adult learners. Try to involve things like quizzes, interactive activities, and discussions to involve the learners. Active engagement, problem-solving, and solution exploration places learners as the focal point, allowing them to construct personal knowledge rather than passively absorb it. Instructional materials that target these strategies promote higher mental-order skills, such as evaluation, synthesis, and analysis, and transform learning tasks and information into engaging and meaningful learning experiences.
Transformative Learning
Also referred to Transformational Learning theory (Kegan, 2000; Mezirow, 1991, 1994, 2000), Transformative learning encompasses four phases: (1) an enhanced level of awareness of the context of one's beliefs; (2) a critique of the assumptions underlying these; (3) a decision to negate an old perspective in favor of a new one or to make a synthesis of the old and the new; (4) an ability to act based on the new perspective.  Perspective transformation involves (a) an empowered sense of self, (b) a more critical understanding of how assumptions and experiences shape and influence one's beliefs and knowledge, and (c) more functional strategies and resources for moving forward. In sum, learning is essentially about making meaning of our experiences, transforming what we know, which in turn influences the way we think and behave.
One feature that makes transformative learning theory applicable to teaching adults is the sharp focus on the idea that the most significant learning arising from critical reflection, and to achieve deep learning, ongoing critical thinking is key. It is therefore essential to build critical thinking opportunities into your course content by asking questions and posing content that prompts deeper thinking. Critical thinking occurs through reflection and dialogue, commonly referred to as discourse, and so the implication is to provide opportunities for learners to fully participate in dialogue and reflection. Activities and tasks that require learners to reflect on what they have learned and share their reflections with their instructors and peers extend and enrich their reflection. For instance, blogs and journaling, whether used as group exercises or as individual activities, have evolved into appropriate tools for learners to engage in critical reflection, dialogue, and ongoing learning. Encouraging learners to explain and describe their progress helps them to stay focused on their goals. Helping them think about what they have accomplished and learned also ensures that they are aware of their own progress and what they have yet to complete. The concept of active learning, where learners actively participate in and contribute to discussion, and engage in critical thinking, places the learner at the center of the learning experience, and has significant applicability to engagement and empowerment in the context of online learning.
The Challenge for Higher Education
Adult learners could be returning to finish a degree or be studying to gain a new qualification. With this in mind, we should think about where adult learners' priorities and goals may lie. Understanding the characteristics of adult learners and principles of adult learning allows us to think about adopting some useful strategies. Expectations of adult learners are generally high. They are assumed to be naturally focused, motivated, and self-directed. While this may be true, some adult students still require significant encouragement and scaffolding. Many adults are just returning to the classroom, oftentimes after multiple years of hiatus.  Some are new to advanced studies, and not well versed with technology. 
As we undertake the complex and compelling challenge of building capacity for instructors to meet the needs of all learners, we know that supporting adult learning has a direct and positive influence on increasing engagement, motivation, and achievement. Since adult learners prefer to be involved in their education, let them make decisions and listen to their input!  Provide educational material in an interactive and problem-based manner! Ask for feedback and offer more freedom with lesson plans and activities, even allowing for self-guided study if this will better suit the needs of your learners! Designing and Delivering Effective Online Instruction: How to Engage Adult Learners is grounded in the idea that we need to move beyond engagement to empowerment. We achieve learner empowerment by offering, and ensuring, control and choice. The goal of education in essence is to meet the needs of all learners, offering them the ownership, agency and autonomy to actively engage in the learning experience, so that they are empowered to implement changes in their own personal and professional lives, and ultimately in the lives of others. Toward this end, and with thoughtful and intentional planning and execution, you can make sure that all learners are provided with a meaningful and successful learning experience!  What steps will YOU take to make this happen?
Be on the lookout for the sequel to this blog, Applying Adult Learning Principles and Universal Design for Learning to Advance Adult Learner Success, where we will look more closely at linking adult learning theory to Universal Design for Learning (UDL), and how and in what ways this knowledge can assist faculty in advancing adult learning capacity.
---
Resources
Bloomberg, L. D. (2021). Designing and delivering effective online instruction: How to engage adult learners. Teachers College Press, Columbia University. https://www.tcpress.com/designing-and-delivering-effective-online-instruction-9780807765289
This publication was nominated for the 2021 and 2022 Division of Distance Learning (DDL) for the Association of Educational Communications and Technology (AECT), one of the premier international organizations for instructional design and ed-tech.
Council for Adult & Experiential Learning (CAEL). (2017). Chart the path to adult student success with prior learning assessment (PLA). https://www.cael.org/hubfs/chart_the_path_to_adult_student_success.pdf
Ellis, H. (2019). A nontraditional conundrum: The dilemma of nontraditional student attrition in higher education. College Student Journal, 53(1), 24–32. www.projectinnovation.biz/index.html
Kegan, R. (2000). "What 'form' transforms? A constructive-developmental approach to transformative learning." In J. Mezirow & Associates (Eds.), Learning as transformation: Critical perspectives on a theory in progress. Jossey-Bass.
Knowles, M. S. (1984). Andragogy in action: Applying modern principles of adult learning. Jossey-Bass.
Knowles, M. S., Holton III, E. F., & Swanson, R. A. (2015). The adult learner: The definitive classic in adult education and human resource development (8th ed.). Routledge.
Mezirow, J. (1991). Transformative dimensions of adult learning. Jossey-Bass.
Mezirow, J. (1994). Understanding transformation theory. Adult Education Quarterly, 44(4), 222-244.
Mezirow, J. (2000). Learning to think like an adult. Core concepts of transformation theory. In J. Mezirow & Associates (Eds.), Learning as Transformation: Critical perspectives on a theory in progress (pp. 3–33). Jossey-Bass.
National Center for Education Statistics (NCES). (2019). Fast facts: Distance learning. https://nces.ed.gov/fastfacts/display.asp?id=80
National Center for Education Statistics (NCES). (2021). Report on the condition of education. https://nces.ed.gov/pubs2021/2021144.pdf
---
Image via Pixabay