On this Indigenous Peoples' Day, here is TC Press' reading list on teaching and learning among Native American families and communities: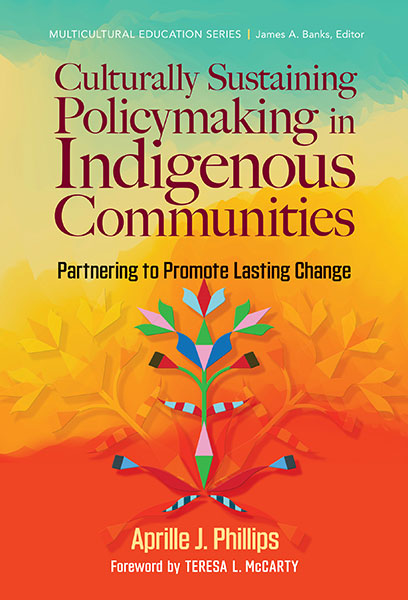 Coming Spring 2024
Partnering to Promote Lasting Change
Aprille J. Phillips
Discover how top-down, policy-into-practice educational mandates have adversely affected indigenous communities in the United States' midwestern core. The author scrutinizes how leaders and intermediaries in Nebraska, involved at various tiers of policy development and reform, conceptualized and implemented school accountability policy in Indian country. In particular, Phillips explores state-directed reform efforts in a school on the Santee Sioux Reservation consistently labeled as failing and persistently experiencing intervention from outsiders presented as experts. The book interrogates who gets to define educational quality, who counts as an expert on improving schools, and what improvement actually looks like. Additionally, the text highlights the way local educators and members of the community employed everyday tactics and incognito acts of improvement to reshape school turnaround efforts. Readers will see what is possible for education policy done with—rather than to—Native communities and schools, with lessons that have relevance beyond the midwestern states.
---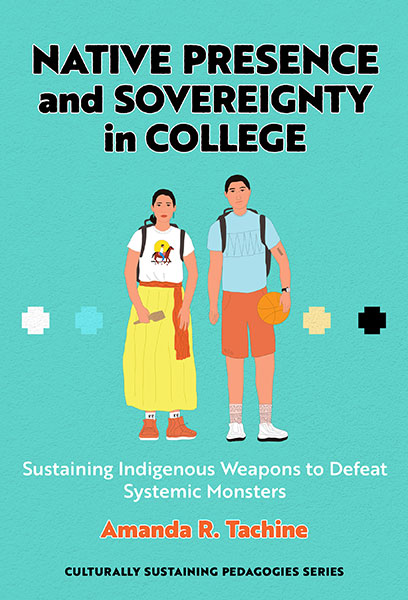 Sustaining Indigenous Weapons to Defeat Systemic Monsters
Amanda R. Tachine
What is at stake when our young people attempt to belong to a college environment that reflects a world that does not want them for who they are? In this compelling book, Navajo scholar Amanda Tachine takes a personal look at 10 Navajo teenagers, following their experiences during their last year in high school and into their first year in college. It is common to think of this life transition as a time for creating new connections to a campus community, but what if there are systemic mechanisms lurking in that community that hurt Native students' chances of earning a degree? Tachine describes these mechanisms as systemic monsters and shows how campus environments can be sites of harm for Indigenous students due to factors that she terms monsters' sense of belonging, namely assimilating, diminishing, harming the worldviews of those not rooted in White supremacy, heteropatriarchy, capitalism, racism, and Indigenous erasure. This book addresses the nature of those monsters and details the Indigenous weapons that students use to defeat them. Rooted in love, life, sacredness, and sovereignty, these weapons reawaken students' presence and power.
---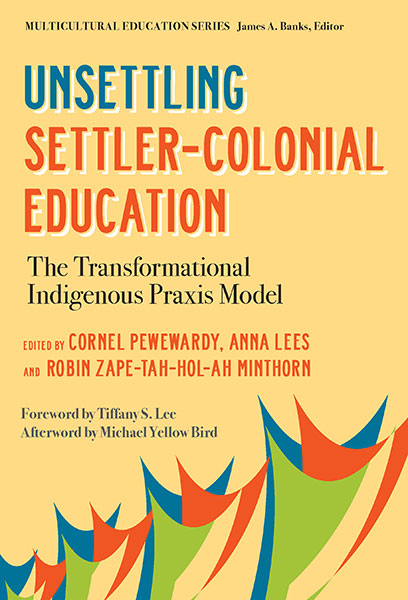 The Transformational Indigenous Praxis Model
Edited By: Cornel Pewewardy, Anna Lees, and Robin Zape-tah-hol-ah Minthorn
This book presents the Transformational Indigenous Praxis Model (TIPM), an innovative framework for promoting critical consciousness toward decolonization efforts among educators. The TIPM challenges readers to examine how even the most well-intentioned educators are complicit in reproducing ethnic stereotypes, racist actions, deficit-based ideology, and recolonization. Drawing from decades of collaboration with teachers and school leaders serving Indigenous children and communities, this volume will help educators better support the development of their students' critical thinking skills. Representing a holistic balance, the text is organized in four sections: Birth–Grade 12 and Community Education, Teacher Education, Higher Education, and Educational Leadership. Unsettling Settler-Colonial Education centers the needs of teachers, children, families, and communities that are currently engaged in public education and who deserve an improved experience today, while also committing to more positive Indigenous futurities.
---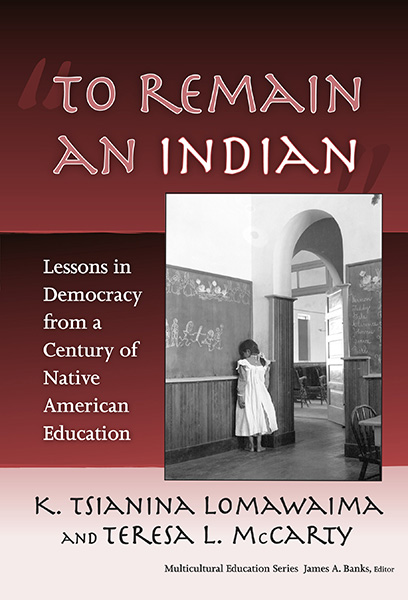 Lessons in Democracy from a Century of Native American Education
K. Tsianina Lomawaima and Teresa L. McCarty
What might we learn from Native American experiences with schools to help us forge a new vision of the democratic ideal—one that respects, protects, and promotes diversity and human rights? In this fascinating portrait of American Indian education over the past century, the authors critically evaluate U.S. education policies and practices, from early 20th-century federal incarnations of colonial education through the contemporary standards movement. In the process, they refute the notion of "dangerous cultural difference" and point to the promise of diversity as a source of national strength.
---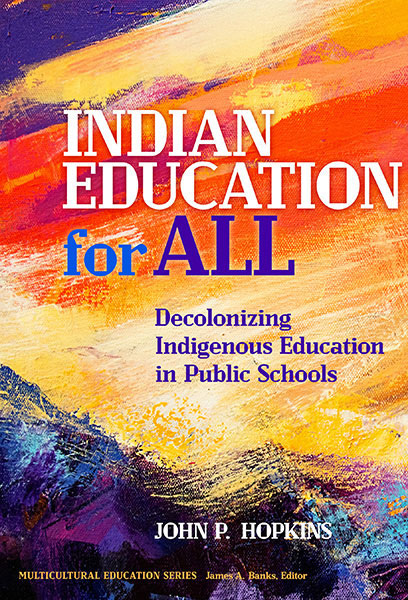 Decolonizing Indigenous Education in Public Schools
John P. Hopkins
In his new book, John P. Hopkins examines recent efforts to reform Indigenous education in public schools. Hopkins centers his critique on Montana State's innovative and bold multicultural education policy called Indian Education for All (IEFA), and demonstrates why Indigenous education reforms must decolonize the curriculum and pedagogy to address the academic inequalities facing Native students. Using tribal critical race theory and culturally sustaining and revitalizing pedagogy, Indian Education for All proposes a shift in the ways teacher candidates learn about Indigenous education and instruct Native students. It explains why teachers and schools need to privilege Indigenous knowledge and explicitly integrate decolonization concepts into teaching and learning to address the academic gaps in Native education. This book will also help non-Native educators engage in productive and authentic conversations with tribal communities about what Indigenous education reform should entail.
---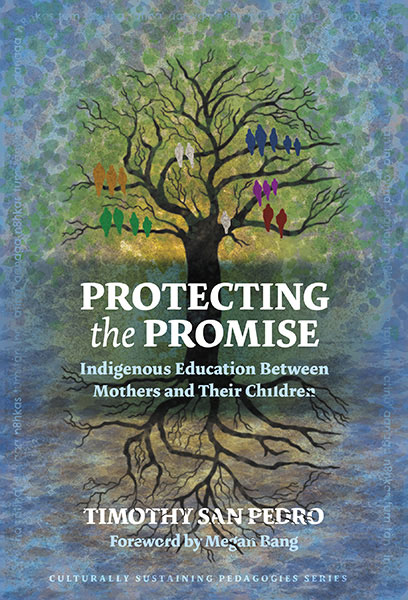 Indigenous Education Between Mothers and Their Children
Timothy San Pedro
Protecting the Promise is the first book in the Culturally Sustaining Pedagogies Series edited by Django Paris. It features a collection of short stories told in collaboration with five Native families that speaks to the everyday aspects of Indigenous educational resurgence rooted in the intergenerational learning that occurs between mothers and their children. The author defines resurgence as the ongoing actions that recenter Indigenous realities and knowledges, while simultaneously denouncing and healing from the damaging effects of settler colonial systems. By illuminating the potential of such educational resurgence, the book counters deficit paradigms too often placed on Indigenous communities. It also demonstrates the need to include Indigenous Knowledges within the curriculum for both in-school and out-of-school settings. These engaging narratives reframe Indigenous parents as critical and compassionate educators, cultural brokers, and storytellers who are central partners in the education of their children.
---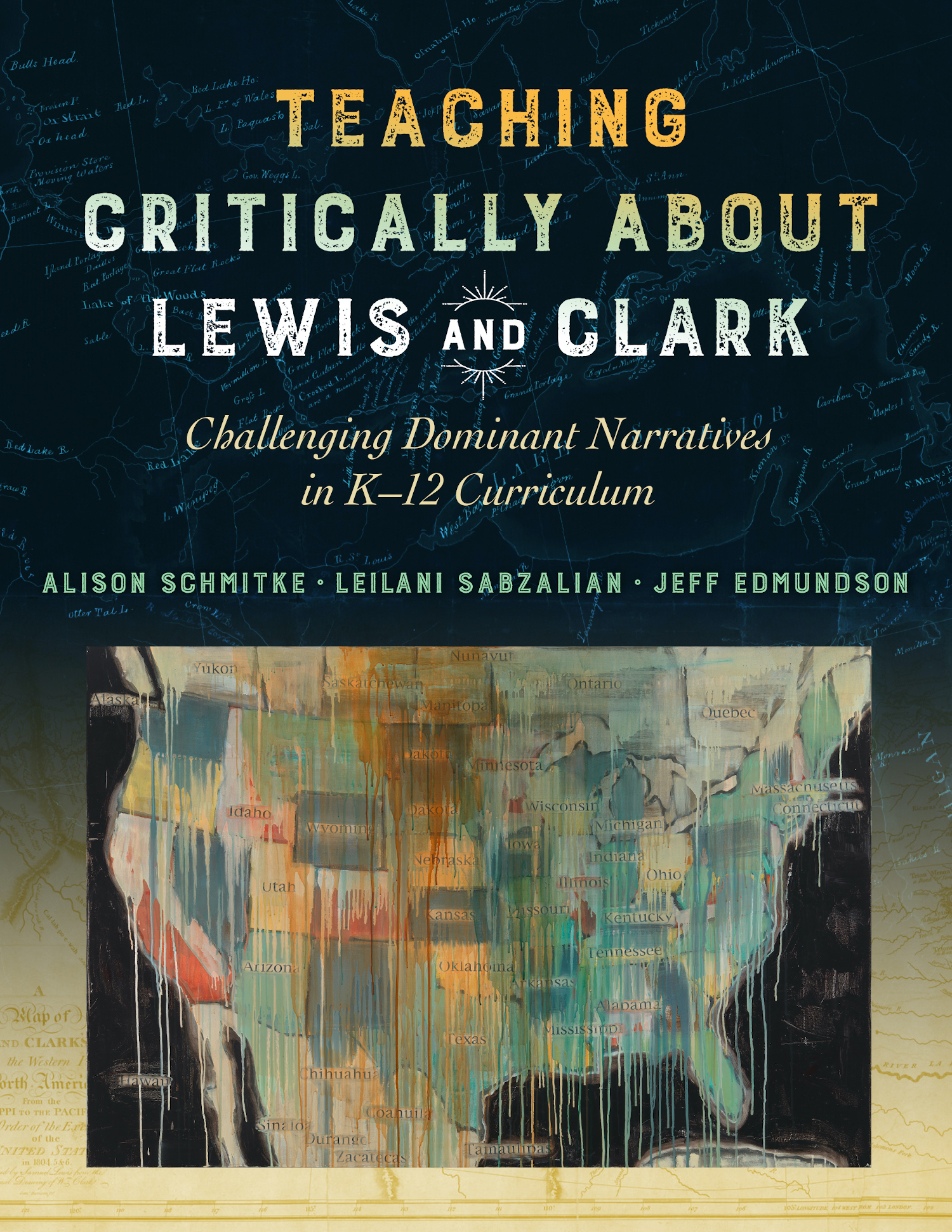 Challenging Dominant Narratives in K–12 Curriculum
Alison Schmitke, Leilani Sabzalian, and Jeff Edmundson
The Lewis and Clark Corps of Discovery is often presented as an exciting adventure story of discovery, friendship, and patriotism. However, this same period in U.S. history can be understood quite differently when viewed through an anticolonial lens and the Doctrine of Discovery. How might educators critically interrogate the assumptions that underlie this adventure story through their teaching? This book challenges dominant narratives and packaged curriculum about Lewis and Clark to support more responsible social studies instruction. The authors provide a conceptual framework, ready-to-use lesson plans, and teaching resources to address oversimplified versions of the Lewis and Clark expedition. Indigenous perspectives, along with contemporary issues, are embedded in each lesson to encourage active and critical engagement with history and the legacies of conquest those living in what is now called the United States have inherited.
---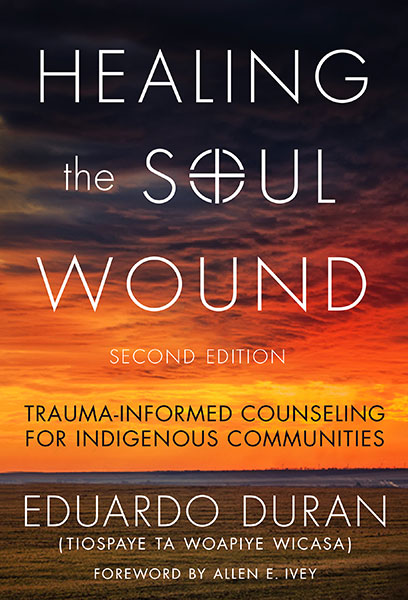 Trauma-Informed Counseling for Indigenous Communities
Eduardo Duran
In this groundbreaking book, Eduardo Duran—a psychologist working in Indian country—draws on his own clinical experience to provide guidance to counselors working with Native Peoples and other vulnerable populations. This second edition includes an important new chapter devoted to working with veterans, examining what it means to go to war and what is required for veterans to heal. Duran also updates his thinking on research, including suggestions on how to invent a new liberation research methodology through applied story science. Translating theory into day-to-day practice, the text presents case materials that illustrate effective intervention strategies for prevalent problems, including substance abuse, intergenerational trauma, and internalized oppression. This unique resource explores theoretical Indigenous understanding of cosmology and how understanding natural law can lead us to new ways of understanding and healing the psyche.
---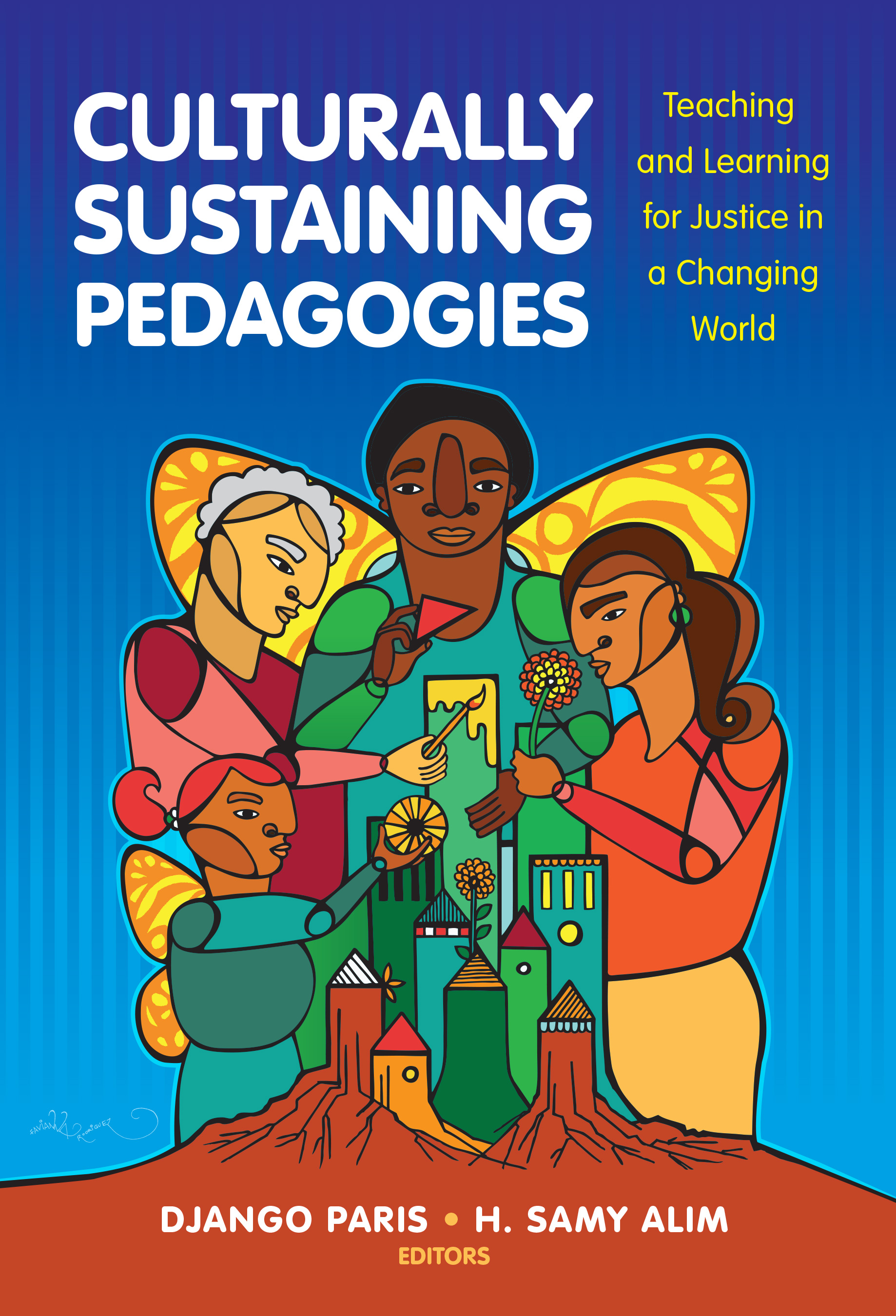 Teaching and Learning for Justice in a Changing World
Edited By: Django Paris and H. Samy Alim
Culturally Sustaining Pedagogies raises fundamental questions about the purpose of schooling in changing societies. Bringing together an intergenerational group of prominent educators and researchers, this volume engages and extends the concept of culturally sustaining pedagogy (CSP)—teaching that perpetuates and fosters linguistic, literate, and cultural pluralism as part of schooling for positive social transformation. The authors propose that schooling should be a site for sustaining the cultural practices of communities of color, rather than eradicating them. Chapters present theoretically grounded examples of how educators and scholars can support Black, Indigenous, Latinx, Asian/Pacific Islander, South African, and immigrant students as part of a collective movement toward educational justice in a changing world.
---
Photo by Ган-Эрдэнэ Булгантамир