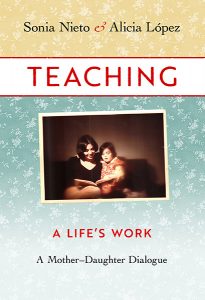 With years of experience on the teacher, administrative, and academic level, Sonia Nieto and Alicia Lopez have a wealth of knowledge to offer new and experienced teachers. Below, we've selected some poignant memories that they share in their new book, Teaching, A Life's Work: A Mother–Daughter Dialogue.
Share your teaching experiences in the comments section below.
Sonia Nieto is professor emerita at the University of Massachusetts, Amherst. Her bestselling books include The Light in Their Eyes: Creating Multicultural Learning Communities, Why We Teach, Why We Teach Now, and What Keeps Teachers Going? Alicia López is an ESL teacher and former assistant principal at Amherst Regional Middle School.
---
Sonia describes the struggle of disciplining and identifying with her students:
"Discipline issues were a constant frustration, more than once leaving me in tears at the end of the day. 'Why won't they listen to me?' I would despair. I had thought that having been raised in relative poverty among Puerto Rican, African American, and immigrant children, and being Puerto Rican myself, I would have an instant connection with my students. But I soon learned that simply sharing ethnicity or childhood experiences did not guarantee a smooth relationship. Thinking back on my 22-year-old self, I am sometimes astonished at my innocence and complete lack of political consciousness, something that took some years of teaching and maturing to develop. In a sense, though, it's no mystery that it took me awhile to develop some political awareness: between my sheltered family life and my higher education at a conservative Catholic university, I was totally unprepared for the reality of my first teaching experience. Given the stress I faced on a daily basis, sometimes it was hard to get up, get ready for work, put one foot in front of the other, and head out the door."
Sonia describes her academic career path after years of teaching:
"It was at UMass that I learned to be a serious scholar and teacher educator, to prepare courses, and to teach and mentor prospective and practicing teachers with what I hope was passion, patience, thoroughness, and good humor. It was also where I learned to do research, publish and critique my own work and that of others, and figure out what was worth investigating in the first place. It was at UMass where I learned that the work we do in teacher education can have enormous significance far beyond our classrooms. In short, it was at UMass where I learned what it meant to be an academic."
Alicia writes about the moment she realized she wanted to be a teacher:
"While I worked my office job, I lived at home with my parents. On that November 4th, my mother and I went to hear Jonathan Kozol speak at the University. He was there to talk about his most recent book, Savage Inequalities: Children in America's Schools (1991). Speaking in graphic detail about the brutal inequities suffered by poor, primarily Black and Hispanic children, in schools in the wealthiest nation in the world, his talk was riveting and passionate. When we left the auditorium where he had spoken, I turned to my mother and said, 'Okay, that's it; I have to be a teacher. I can't do anything else that's as important.' I even told her I thought I should cancel my trip to France. She convinced me not to, knowing that it would be life-changing and having no doubt that it would be the only chance I would have the flexibility to do something like this. She also reminded me that teaching jobs would be here when I came back."
Alicia describes teaching at private school:
"I knew that having such small classes was not the norm for teachers in public schools. For a new teacher, it was an ideal way to begin a teaching career. And because discipline was not a major issue, I could focus on planning, curriculum, and growing my relationships with students. Students felt safe and comfortable because of the small class sizes, and since it was an all-female school, they generally felt more empowered and safe to speak up in class. They spoke up often, which is essential for learning a language, so they tended to be successful in learning French, in turn making me feel successful as a teacher."
Featured Image: Abstract Art Background, public domain via Pixabay