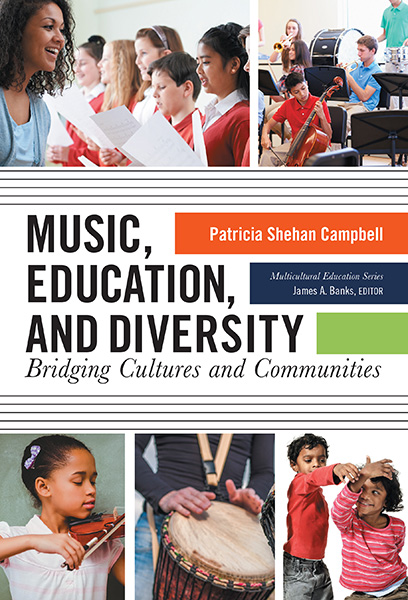 Patricia Shehan Campbell is Fulbright Research Chair at Carleton University, Ottawa, and University of Washington Professor Emeritus, with specializations in Music Education and Ethnomusicology.  She is author of Music, Education, and Diversity: Bridging Cultures and Communities (Teachers College Press, 2018).
---
Among music educators in school and university music programs, there is an impassioned expression that March comes in like a lion—fiercely, and then musically roars through the next 31 days. Since 1973, March is primetime for national attention to the importance of music in schools—initially as a single commemorative day and shifting in 1986 to a month-long tribute to music in life, learning, and the comprehensive school curriculum. The National Association for Music Education fuels celebrations in schools throughout March in recognition of the powerful impact that a musical education can make in the lives of young learners. Whether in-school musical performances, media events, public concerts, or community music workshops, the goal of these celebrations is to raise awareness of the many ways music experience and study benefits students. Musically educated students are acknowledged throughout March too, for the benefits that they bring to their communities, to American society as a whole, and to a world in which connecting to others through music is a powerful means of understanding the beauty of diversity and the cross-cultural traits that make us musical.
For at least a century, research by ethnomusicologists in a staggering number of cultural communities have provided evidence that music is a powerful, universal human phenomenon, and an essential quality of human life (Nettl, 2015). Music is extreme high art, as in the case of a dynamic symphony by W. A. Mozart, a robust choral sound coming from Samoan singers who move in sync to their close-knit harmonies, or a Mexican harp's decorative melody in the midst of a mariachi ranchera. Music is sheer genius in the riveting jazz solos of "Young Lions" sax player Kenny Garrett, the golden tones of legendary Indian cinema singer Asha Bhosle, the fiery finger work of Hawaiian ukulele virtuoso Jake Shimabukuro, or the vocal mastery of Tanzanian recording artist Diamond Platinumz, whose popular bongo flava music has mega-millions of listeners across sub-Saharan Africa. Yet while music is a presence for those who are driven to the peak of human artistic expression, it is also a phenomenon accessible by people of all ages, in every culture, for anyone who wishes to tap into the natural human propensity to engage in listening, singing, playing, dancing, and creating. For leading musicians, and for everyone else, music plays a key role in providing a safe space for releasing physical energy, venting emotions, developing empathy, and stimulating the creative imagination.
In some places, music is understood to be so all encompassing of the performing arts, including dance and drama, that an umbrella term is used, for instance ngoma in parts of sub-Saharan Africa, saapup by the Blackfoot nation of Montana, or gesampkuntswerke by the 19th century opera composer Richard Wagner. Among the Kaluli people of Papua New Guinea, music is located within a five-part taxonomy of sound—speech, poetry, song, bird-song, and weeping (Feld, 1982). It goes by many names, such as the Latin "musica," the French "musique," the German "Musik," the Spanish "música," and the classical Greek "mousike". In Slovenia, the word is "glasba," in Hindi "Ganavidya," in Shona "mumhanzi," in Samoan "pese." "Musiqi" is the Arabic rendition (which applies to instrumental music but not to sung poetry or chanting portions the Koran; this variant of the word is found all the way down the Swahili coast of East Africa). In still other cultures, there may be no word at all for the phenomenon of music; in these places, music just is. In communities around the world where music carries social and cultural importance as a component of daily life, and in which parents and teachers believe in the importance of providing musical education for children, music flows freely, pleasing both the makers and their listeners.
Over two centuries of American schooling, music has contributed to the comprehensive education of children and the development of their expressive, artistic selves (Campbell and Dahm, 2022). Music is a key curricular component that grows the capacity of young people to think, to feel, to get along with others, and to create something beautiful, expressive, and meaningful. Music belongs alongside courses in math, language arts, and the social sciences to advance the intellectual and socio-emotional development of children and youth in elementary and secondary school. The study of music is a given in many school settings, and is mandated in elementary school, or even through the eighth grade, by many state departments of education. It appears as an important area of elective study in secondary schools, and is sometimes required for graduation from high school or for university admission. Educators are understood to have a responsibility to expose students to music, so that no one is excluded from the opportunity to become expressively and artistically educated.
Yet the experience and study of music does not always make the grade in school settings. Sometimes music is totally absent as a subject of study, especially in school programs that suffer budgetary restrictions. Band, choir, orchestra, and other forms of music education are dismissed with a litany of apologies: "We just can't afford it," "No time in the school day," "Nothing left in the district budget for hiring music teachers." More frequently than any of the academic school subjects, music is the one on the chopping block, considered "nice" but deemed peripheral to the core curriculum, an unnecessary "frill." All the instances of joyful children in performance as singers, players, and dancers, of children listening intently and deeply to music from a range of cultures, of children composing and improvising music of their very own creation, are dismissed as extraneous and expendable. There is considerable challenge in persuading school boards and curriculum specials that children have a right to an education in music, despite data that supports the benefit of musical study to their holistic development (Campbell and Dahm, 2022).
While acknowledging the benefits of music as music, for all of its sonic-sensory, cognitive, affective-artistic, and emotional-expressive facets, another convincing reason for music's place in schools is its effectiveness in underscoring issues of social justice and global perspectives (Campbell 2018). Music is a bridge to cultural understanding, and teacher facilitated musical experiences can help diminish cultural mistrust and reduce bias while also enhancing intercultural interactions. School music need not be limited to the Western European musical canon that historically dominated music education in schools. Increasingly, music education is multicultural and global, and consistent with the reality of a student body from diverse cultural communities who are heading for a wider world of intersecting nations, customs, and values. Children's songs, choral works, and instrumental selections from India and Ireland, Tanzania and Tibet, Brazil and Bulgaria, the Yoruba and the Yakama, tune students not only to music's sonic features but also to its social functions and cultural meanings. Through a sweep of the world's diverse practices, the musical education of children in schools can transcend arbitrary cultural boundaries and offer a common understanding of the human condition.
Decades of cross-cultural research in cognition provide compelling evidence that musicality is a birthright and a part of the composite of human traits (Trehub, Becker, and Morley 2015). Yet however natural the trait may be, musicality requires nurturing. The musical month of March brings with it a reminder that through the dedicated work of specialist music teachers in school music programs, the musicality of every child will bloom and blossom, and children will be assured a well-rounded and complete education that reaches across the entirety of their human capacities.
---
References
Campbell, P. S. (2018). Music, Education and Diversity: Bridging Cultures and Communities. New York: Teachers College Press.
Campbell, P. S. and Dahm, L. C. (2022). A social history of music in US schools: The coalescence of research and practice. Music Research Annual 3.
Feld, S. (2012). Sound and Sentiment. Durham NC: Duke University Press.
Nettl, B. (2015). The Study of Ethnomusicology: Thirty-Three Discussions. Urbana IL: University of Illinois Press.
Trehub, S. E., Becker, J., and Morley, I., (2015) Cross-cultural perspectives on music and musicality. Philosophical Transactions of the Royal Society B: Biological Sciences 19.
---
Photo by PNW Production