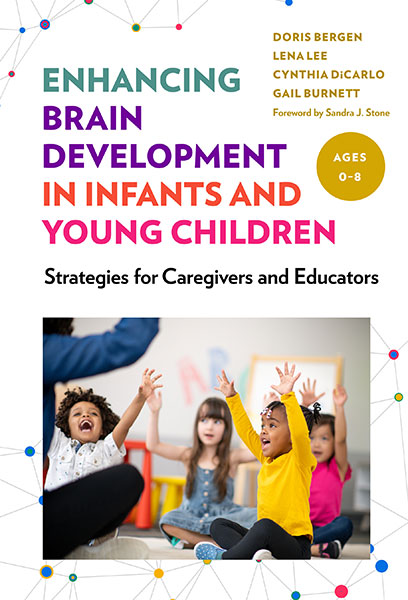 By: Cynthia DiCarlo
Cynthia DiCarlo is co-author of Enhancing Brain Development in Infants and Young Children: Strategies for Caregivers and Educators and professor of education at Louisiana State University and executive director of the Early Childhood Education Laboratory Preschool.
---
Early in my career I worked with young children, three-to-five years, who had identified special needs. While there were many specialized interventions recommended by therapist to promote growth and development, my challenge as the early childhood special education teacher was to integrate these interventions meaningfully into the classroom, and to help families identify routines at home where it made sense to incorporate these interventions. Through these experiences, I have relied on my observations to identify child preferences and incorporate these into learning activities that are aligned with child interests in order to provide experiences to shape their brain development.
As I moved to work with young children with identified disabilities in a birth to age 3 program, I continued to hone my observation skills in order to identify preference, and point out to parents ways their younger children were expressing preference, in order to maximize learning opportunities. As an early childhood educator, it is a necessary skill to become an expert on development, as this enables you as you watch children play to 'translate' what you are seeing into developmental objectives. When you are aware of both development and child interests, you can design environments have the potential to impact children's cognitive and social development. Enriched environments are a joy to work in, as children are more motivated to interact with interesting materials that are also supporting their overall growth and development. As a teacher, you can observe and then facilitate as needed in order to scaffold cognitive growth and promote social interaction.
As a university professor, I have stressed the importance of a well-designed environment and the importance of data-based decisions. While well designed environments provide a solid foundation for learning to occur, the impact of a highly skilled teacher's impact on child outcomes cannot be minimized – both in her designing of the classroom and her facilitation strategies. The early years are so important, and these foci provide students with the tools they need to support young children's brain development.
As the executive director of an early childhood laboratory preschool serving children 6 weeks to 4 years, I interact with many teachers of young children and see the need for guidance in how to promote development in children prior to formal schooling. That's why I was so excited to work on the book, Enhancing Brain Development in Infants and Young Children: Strategies for Caregivers and Educators, with my colleagues Doris Bergen, Lena Lee and Gail Burnett, as this book can serve as a guide for both students and working teachers in providing high-quality experiences that enhance brain development for all young children.
---
Featured image by: Pixabay from Pexels