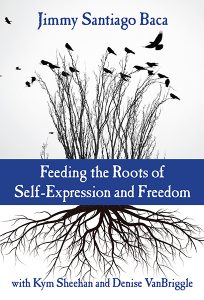 Teaching poetry can be a tough but rewarding experience for language arts teachers. Jimmy Santiago Baca uses his experience as a poet and mentor to help students and teachers engage in the complex medium of poetry. Below, we're sharing an original poem and discussion questions that teachers can use in their classrooms.
You can view more examples and lesson plans in his latest book written alongside educators Kym Sheehan and Denise VanBriggle.
---
63-64
Waking Up in Prison

With a violent tear, the vengeful disembodied voice,
screeches over the loud speaker:
sudden, like a stake driven into my brow,
the bones of my skull splintered,
as it rips through the silky mist of my dreams,
crushing the images of ones I long for,
of places I've come from and been to.

Crushing my grandfather's rocking chair,
the black old pot-bellied stove,
darkening the sad red flames dancing on mud walls,
disfiguring the ancient bronze face,
the lips withered like rose leaves,
the silver hair bunned up,
torn apart, the image buckles under,
like a struggling doe shot in the heart,
its knees crumple, and its great brown eyes
look at you, dismayed, astonished, hurt.

As the voice comes to crushing, hurtles down,
an upheaval of boulders breaking and jolting down,
with scissor-like edges, down upon my heart, violently suffocating it…

The racks of cell doors crack open agonized
like old coffins whose nails scratch,
unwilling to open, petrified graves,
unwilling to release the living, breathing dead.

Four cells away a friend of mine walks out,
sleepy eyed, he greets me, "Want a cigarette?"
as if he knew what I had been through, "Ya" I say.
With our hands punched into our coat pockets,

we walk down the tier, down the stairwell,
across the main floor of the cellblock,
and outside to the landing,
where there is a real sky and still a few stars,
where we inhale fresh air, cold and clean,
and our breath gleams out in balloons against
the compound's brilliant spotlights.

We walk across the twilight compound to the kitchen,
Beneath my tongue I taste the emptiness of another
day,
like a capsule of poison, and with my first cup of coffee,
it slowly pops, dissolves under my tongue,
slowly numbing my heart,
still moist from last night's dream of back home.
Discussions for your classroom
 In "Waking Up in Prison," identify the images of life and death, both real and metaphorical.
Does the way that one perceives death have consequence as to how life is lived?
Identify the imagery and the extremes within this poem that speak loudly to you, the reader. What does it say to you? For example, the reality of waking up in prison is in opposition to the longing for life beyond bars and waking from the dream is like waking to die each day. The imagery of death in the "struggling doe" in the text awakens the reader to the harshness and immediate reality of this life.
Appoint group facilitators and engage in discussion about the poem and ask students to conclude where and how the metaphor is carried and to highlight and annotate the text. Have students investigate different metaphors for death and write some poems.
If an individual chooses, writing about the opposite, birth in metaphorical terms, could also provide a perspective to the discussions and allow for comparing and contrasting.
"Waking Up in Prison," shows how a metaphor is carried throughout a piece of writing. What other intangible items can be made tangible by metaphor? Using a metaphor, create a poem that speaks about an aspect of one's own life.
Featured Image: "New Mexico, Autumn, Colorful Mountains." Public domain via Pixabay.