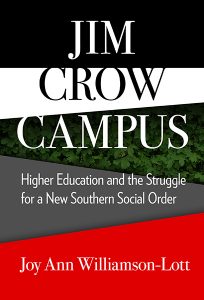 For this year's University Press Week, we're looking at academic freedoms and censorship in higher education. In the North, there was a emphasis on anti communist sentiment and its effect on Northern schools during the 1930's  and 1950's. To the white South, integrationists and communists represented a threat to white nationalism, and was a main focus to boards and trustees. During this time of academic persecution, the AAUP became the primary organization through which faculty members sought to protect themselves and their academic freedom. Below, we've listed some important yet forgotten cases of Southern institutions that provoked AAUP censure.  This post and the interactive map below is adapted from Joy Ann Williamson-Lott's Jim Crow Campus: Higher Education and the Struggle for a New Southern Social Order.
Join the university press community on social media with #TurnItUP.
Featured Image: "Jubilee Hall Fisk University" by Dave. CC 2.0 via Flickr.