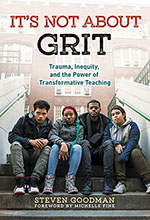 There is a perception that all students are in control of their education, and with "grit" and perseverance, they can achieve whatever they want. However, Steven Goodman explains in his recent book, It's Not About Grit: "grit" isn't enough to succeed. There are various social systems at city, state, and federal levels that act as a barrier to keep students from learning. The excerpt below demonstrates some of the obstacles and trauma that emergent bilinguals face during school, particularly those whose families are pursued by immigration and customs law enforcement.
Steven Goodman, along with a panel of students, will discuss his new book and their experiences creating documentaries. Please join us on October 29th in 306 Russell.
---
"FEARFUL OF ANY INSTITUTION":  CHALLENGES FACING EMERGENT BILINGUALS
Studies of prolonged parental absence, particularly for Latino immigrant youth, and the fracture of networks of support at home or in school for first-generation immigrant students show a negative impact on students' school performance and on students' own expectations for their educational achievement (Suárez-Orozco, Suárez-Orozco, & Todorova, 2008; Wright & Levitt, 2014). In the country's two largest school systems, Los Angeles and New York City, nearly 25% and 15% of all students, respectively, are English language learners (Ruiz Soto, Hooker, & Batalova, 2015). These students are also referred to as emergent bilinguals, a term that recognizes students' "strengths—their home language and cultural practices . . . [and] children's potential in developing their bilingualism; it does not suggest a limitation or a problem in comparison to those who speak English" (Garcia, 2009, pp. 322–323; see also Garcia & Kleifgen, 2010).
The anti-immigrant climate they are living in causes unauthorized students and those in mixed-status families to live in constant fear of losing their parents and other family members in raids and random stops. Some undocumented parents in New Mexico and other border states keep their children home from school for fear of being arrested when they drop them off at school, or being stopped at border patrol checkpoints on the roads along the way there.
One New York City high school principal described the increased fear she has witnessed in her students and their families:
I've been doing this work over 20 years, only now am I seeing families that are afraid to bring their child with emergency situations to the hospital. They are afraid they will be deported, and their child will be deported. We have a student who tore his ACL (anterior cruciate ligament). He actually borrowed crutches and braces from someone else because his family was afraid to bring him to the hospital…There are serious health issues, including domestic violence, now that they won't report. They are fearful of any institution—hospitals, schools…Students are coming to us if they have a parking ticket. They are afraid… ICE is showing up at courts… I want to say nothing is going to happen. But I can't assure our students that they will be safe. (personal communication, October 17, 2017)
Sightings of ICE agents at courthouses across New York State have surged, with a 900% increase in ICE arrests or attempted arrests reported between 2016 and 2017 (S. R. Brown, 2017). Seeing a growing anxiety and drop in school attendance that follows raids or rumors of ICE sightings, superintendents and other school leaders are alerting staff to watch out for their immigrant students and writing letters to parents in an attempt to reassure them (Seelye & Bidgood, 2017). One was moved to write a letter to the Department of Homeland Security about "the devastating impacts [of ICE raids] . . . on the academic, social, and emotional well-being of all our students" (Blitzer, 2017).
The fear of deportation and hypervigilance that newcomer students carry with them to school each day are all the more difficult for teachers to address, as students often adopt a sense of invisibility and silence about their status, as a strategy for survival. This situation is further complicated by a range of other challenges that their U.S.-born peers don't have to contend with. Perhaps most obvious is the new language that they are required to learn and the new culture and monolingual school system they have to adapt to with its own set of rules, norms, and graduation requirements.
Emergent bilinguals experience a dissonance between their home and school environment that becomes increasingly difficult to overcome. They not only have to learn to speak socially in a new colloquial language, but perform with proficiency in a context-reduced academic language; researchers say it can take emergent bilinguals 5 to 10 years on average to reach the proficiency of their English speaking peers. It is no surprise that they struggle in a high-stakes testing environment that is unforgiving to newcomers and their particular challenges. They score an average of 20–50 percentage points below their native-English-speaking peers, not only in English language arts tests, but also in other subjects such as math (Menken, 2013).
In addition to these linguistic challenges, many immigrant students also struggle with social and emotional problems rooted in the trauma and upheaval of their migration and post migration experiences. These may include the violence, bleak poverty, or family tragedy from religious, ethnic, or political persecution they left behind in their homeland, as well as the long family separation or permanent breakup, their undocumented status, or their family's impoverished living conditions when they arrive.
We as teachers, school leaders, counselors, and social workers need to build close and trusting relationships with our students and get to know them well. Using their students' home languages as a resource is an effective bilingual strategy for developing strong relationships with their students and their families and for gaining insight into the multiple factors that can shape students' attitudes, emotional engagement, and academic performance in school (Garcia, 2009; Suárez Orozco, Bang, et al., 2010).
---
Featured Image: "Student Classroom", public domain via Pixabay.