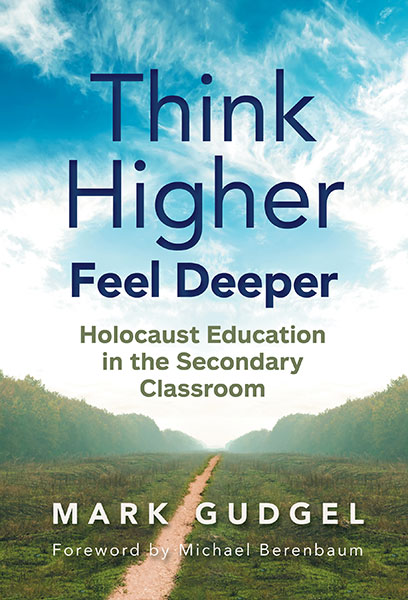 By Mark Gudgel, author, Think Higher, Feel Deeper.
Mark Gudgel is an adjunct instructor in education at Nebraska Wesleyan University, a 17-year veteran of public-school education, Fulbright Scholar, and fellow of the United States Holocaust Memorial Museum.
---
After passing the House of Representatives with 302 cosponsors on International Holocaust Remembrance Day and being agreed to in the Senate without amendment, H.R. 943, known in brief as the Never Again Education Act, became law on May 29th, 2020.  As a Nebraskan, I was pleased that it was co-sponsored by the Congressman who represents my district in Omaha, General Don Bacon. The bill made it through the House of Representatives with a vote of 393-5. HR 943 authorizes the Director of the United States Holocaust Memorial Museum—where I was employed for six years—to "Support Holocaust education programs, and for other purposes" and provides further funding to do so.  And while such a broad charge may seem obvious, I think it bears mention that much of the important work done by the USHMM and around our nation has often been the product of federal actions at the highest levels.
In 1978, President Jimmy Carter established the President's Commission on the Holocaust, laying the groundwork for the creation of the Museum where I served on a team of educators who were dispersed throughout the United States, regularly congregating in Washington to collaborate or receive further training. When President Carter graciously declined to write the introduction to my book, my old friend and colleague Michael Berenbaum, who oversaw the creation of the USHMM and who served as the first director of its Research Institute, kindly agreed to do so. (I'd have asked him to write the conclusion, had President Carter acquiesced.)
Thus, the work of the USHMM, and by extension so much of the education about the Holocaust which takes place in the United States and around the world, has often been a collaborative effort. In teacher's college, I was taught that good teachers "beg, borrow, and steal" as much as they possibly can from other teachers, improving our craft by constantly learning from our colleagues. As a devoted Holocaust educator for the entirety of my eighteen-year career as a public school teacher, I can confirm that this is the case in Holocaust education. I've rarely seen anybody attempt to "go it alone" in this field, but instead, have marveled at and frequently benefited from the kindness, patience, and support of so many colleagues from around the world who, like me, had undertaken the daunting, nearly unthinkable task of making "Man's inhumanity to man" a part of what we teach to young people.  It is for them, and with their help, that I wrote this book.
As the introduction relays, the title of the book came from an exchange I once had with Professor Elie Wiesel. For years, I took students to meet him in New York, and during one such meeting he said to me "From one teacher to another, thank you."  A year later I asked Professor Wiesel what advice he had for me as a teacher, and his response became the title.  Of all the many things he was—survivor, Nobel Prize winner, author, and so much more, Elie Wiesel clearly viewed himself as a teacher. To teach about the Holocaust is no small endeavor. He knew that, of course, and he supported me and others like me who pursued it nonetheless. And so, while there is indeed critically important work being done by large institutions with federal funding, it is also true that the most important work in the field of education, Holocaust or otherwise, has always been—and will always be—that which is done by teachers.
I was sitting in a workshop on Holocaust education with forty of my fellow teachers at a nearby University when I began outlining this book on the back of a handout. If I wrote a book about Holocaust education, what would I include? I settled on topical chapters, and committed to writing in the first person. So much of academic writing is damned to obscurity by its own dryness, and I wanted what I wrote to be accessible and widely-read. When Kelley Szaney, Vice President of Education and Exhibitions at the phenomenal Illinois Holocaust Museum and Education Center wrote of my book: "Gudgel not only touches your heart and makes you laugh and cry; he leaves you empowered with an understanding that as an educator you can truly have an impact," I knew that I had done what I set out to do.
If you teach about the Holocaust, or want to, or are thinking about it, or have been told that you must, then I wrote this book for you. Inside you'll find my candid, first-hand experiences, thoughts on pedagogy and what materials I've used, some original research, reflections on mistakes I've made over the years, and more.  Far from a comprehensive how-to guide, I took a topical approach, and I am hopeful that what I learned from tackling these tough topics over the years may prove useful to you when you do the same thing in your own classroom.
Currently, I teach English, Humanities, and World Religions at Omaha North High Magnet School, as well as in the College of Education at Nebraska Wesleyan University, and it is my experience that for all of their shenanigans on Tic Tock and ubiquitous additional distractions, my students are perhaps as if not more in tune with the world around them today than ever before. In my Humanities class at the high school, which focuses on 20th Century Genocide, students voraciously consume Samantha Power's A Problem From Hell and seem acutely aware of grave concerns facing their fellow human beings in Afghanistan, China, Burma, Sudan, Syria, and elsewhere in the world. Simply put, they care, and I take their genuine concern as a charge to teach bravely, day in and day out, and to allow them to address the most difficult topics together in a safe environment. I suspect you might as well.
"As intolerance, antisemitism, and bigotry are promoted by hate groups, Holocaust education provides a context in which to learn about the danger of what can happen when hate goes unchallenged and there is indifference in the face of the oppression of others; learning how and why the Holocaust happened is an important component of the education of citizens of the United States." So states HR 943, the Never Again Education Act, and I would contend that truer words were never written—in Congress or anywhere else. But I might also add that while Holocaust education indeed provides such a context for learning, it is Holocaust educators who do the heavy lifting, who indefatigably undertake the daily ritual of making the world a little bit better one student at a time. I hope my book might help you to continue to pursue the work of Holocaust education, which has never been more important nor more relevant than it is today.
---
Photo via Phil Kalina on Flickr