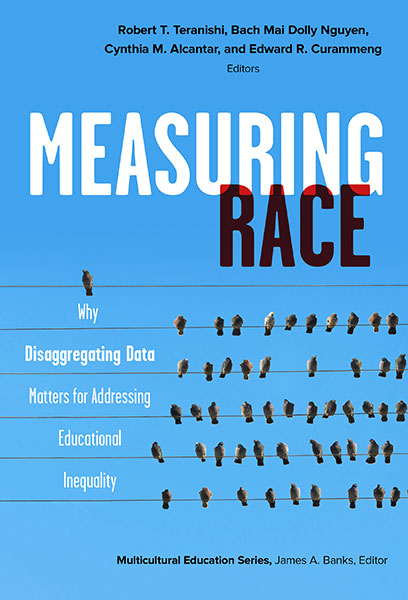 Title: Measuring Race
Editors: Robert T. Teranishi, Bach Mai Dolly Nguyen, Cynthia M. Alcantar, Edward R. Curammeng
Publisher: Teachers College Press, New York
ISBN:9780807763605, Pages: 240, Year: 2020
In Measuring Race: Why Disaggregating Data Matters for Addressing Educational Inequality, editors Robert T. Teranishi, Bac Mai Dolly Nguyen, Cynthia Alcantar, and Edward R. Curammeng bring together a set of timely perspectives that problematize current approaches to the study of race in research addressing educational inequality. Precisely, contributing authors interrogate the politics embedded in traditional conceptualizations and approaches to measuring race and ethnicity to shed light on how these practices sustain educational inequality. In doing so, contributing authors outline historical perspectives that contextualize contemporary framings that mask, invisibilize, and homogenize the unique experiences of racially minoritized populations in education. They also make a strong argument for using data disaggregation as a tool to disrupt traditional practices and to enable racially/ethnically diverse groups to strategically position themselves for more inclusive policies or to advocate for political aims. In a cohesive compilation of 12 chapters distributed in two parts, the volume presents perspectives on the experiences of racially minoritized students, including Asian American, Black, Latinx, Mixed race, Multiracial, Native American, Native Hawaiian, and Pacific Islander students.
Read the full review at Teachers College Record