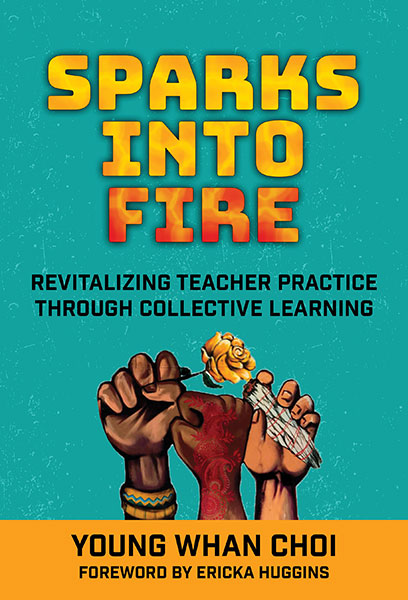 Young Whan Choi
Foreword By: Ericka Huggins
Publication Date: July 22, 2022
Pages: 144
---
Sparks Into Fire is excerpted at Next Gen Learning Challenge:
Teachers aren't supposed to play favorites, but that doesn't mean we don't have favorites. At the Met Center, Domingo, or DJ as he was known to us, was one of my favorite students. I met him when he was thirteen, "all bones" as he would say, and full of angst. He would pour his thoughts and feelings, mostly rage and frustration at the injustice of the world, into pages and pages of his journal, which I collected along with those written by all of my students. I related to DJ's cynical view of the United States's racial "progress," and we both loved the lyricism and critical consciousness expressed in the album Mos Def and Talib Kweli are Black Star.

I took his views seriously, feeding him books and music and exposing him to the creators and intellects whom I hoped would both nurture and challenge his budding interest in spoken word poetry and hip hop. I brought DJ and his classmates to a reading at Brown University by Staceyann Chin, a Jamaican spoken word poet. DJ later connected with the Rites and Reasons Theater, which is part of the Africana Studies Department at Brown. And when our class went on a college visit to New York City, we naturally had to make a late-night stop for an open mic at the Nuyorican Poets Cafe—the mecca for spoken word. By the time of graduation, DJ was writing phenomenal poetry and rhymes and learning self-acceptance.
Read the full piece here.