---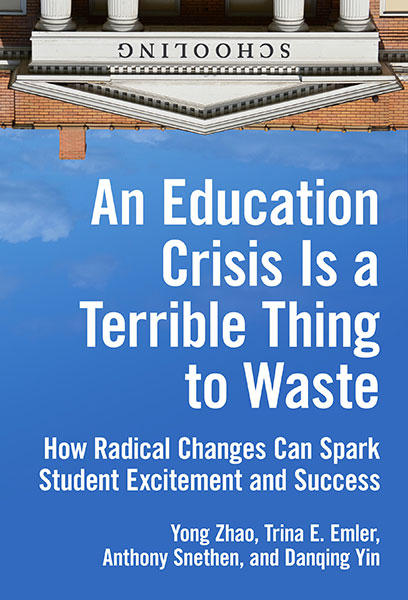 Title: An Education Crisis Is a Terrible Thing to Waste
Author(s): Yong Zhao, Trina E. Emler, Anthony Snethen, & Danqing Yin
Publisher: Teachers College Press, New York
ISBN:9780807763391, Pages: 160, Year: 2019
Educators often bemoan the structure of school systems rooted in the needs of the Industrial Age that do not adequately meet the needs of 21st century students. Standardization, rigid curriculum, and mandated assessments perpetuate this industrial approach to education. In An Education Crisis Is a Terrible Thing to Waste, Professor Yong Zhao and colleagues from the University of Kansas encourage transformational change by sharing research and providing relevant examples of "radical" change to demonstrate it is possible to transform schools.
These authors have visited schools around the world and are familiar with the reasons offered for why transformation is prohibitive. They describe this as the "yes, but…" barrier. Instead, the authors suggest transformation can begin when one acknowledges the obstacles and responds with "yes, and…."
The book provides examples of transformation led by students and teachers in different types of schools. It then describes transformational change that occurred at the school level and through a united network of schools. Once again, these examples cover a variety of schools with different student populations to emphasize that transformation is possible everywhere.
Read the full review at AASA School Administrator